INTRODUCTION
The AME Awards honors not just campaigns that are creative, but campaigns that hit the bullseye for brands, triumphing in both creativity and effectiveness and AME's Grand Jury are the genius minds behind many of AME's award-winning entries.
AME's Grand Jury is the powerhouse behind the prestigious AME Awards, their high standard of excellence insures that AME's 25-year legacy is upheld and respected globally both by winners and industry reports measuring creative distinction. Their dedication results in truly award-worthy work being recognized.
2019 AME Grand Jury member Newton Rebello has spent over 17 years in the advertising business across a mix of international and local agencies and leads the client servicing and digital teams at Blue Apple. As Group Account Director for Blue Apple Advertising, UAE, he is responsible for providing direction and maintaining all aspects of client-agency functions. Newton believes that in any job or role, a sense of ownership is paramount in making it a success.
A graduate in Psychology and Sociology from the University of Bombay (Mumbai), Newton also holds an MBA from the University of Wollongong. Prior to Blue Apple, he was the Associate Vice President at BPG Group with previous stints at The Partnership Dubai and Nebula Advertising. He has worked on a range of retail and financial brands like Rivoli, Omega, Longines, Rado, Tissot, Swatch, Dubai Shopping Festival, Dubai Shopping Malls Group, FGB, Swicorp and Kodak, to name a few.
INTERVIEW
AME Awards: AME's winners and entrants are behind some of the most innovative leading-edge creative work on the planet that delivers the most impactful result. Tell us about your process of creating and delivering creative and effective results. Are your ideas inspired or do they come together as the result of a collective brainstorming session with your team?
Newton Rebello: In my view, creative and effective results are the result of two things – (1) consumer insight and (2) delivering that communication in an engaging and (if possible and if relevant) an entertaining manner. Insights can be gathered by listening, reading and talking to your target consumer i.e. truly understanding the consumer and going beyond just 'putting yourself in their shoes'. We need to understand not just how but why they behave and/or react in a particular manner. As far as message delivery is concerned, the use of a communication medium – be it traditional, digital, activation or ambient – is to be explored and a 'best fit' medium ought to be adopted.
Now, such ideas – be it insights or execution – are usually the result of a team effort. Brainstorming sessions, team meetings, a team night out, deep dive sessions, pizza parties – there is no fixed formula. I am privileged to have a multi-cultural team. We all learn from each other, from our collective experiences and perspectives. This helps us obtain a well-rounded approach to solve a particular problem rather than just looking at it from one particular perspective, which may or may not be the right and effective way to address a certain marketing or communication challenge.
AME Awards: As a strategic creative, what stand-out attributes do you recognize in award-winning creative and effective advertising…what do ads that have taken the brief and turned it into campaign that transforms opinions, evokes action and raises the bar for the brand have in common?
Newton Rebello: Effective campaigns are relevant, simple to understand, built on insight and have the consumer at the centre of it all. If any of these pillars were absent, the campaign at best would at best serve as awareness for the brand but won't evoke any action.
AME Awards: Why are effectiveness competitions like the AME Awards important?
Newton Rebello: Well, the age-old mantra of ROI. Today, clients (brands) need advertising and marketing more than ever to meet objectives (and push sales). They need their marketing communication to result in increase in business (sale). A typical creative communication may not necessarily do that. In a day-to-day communication scenario, the fact remains that agencies do produce more functional communication work rather than the 'creative' work. This doesn't mean that functional work shouldn't be good advertising or creatively refreshing. Awards such as the AME Awards recognises the time, effort, the need and the importance of functional work. In a way it recognises and celebrates the reality of the marketing communication business.
AME Awards: Why did you agree to participate on this year's AME Grand Jury and What do you hope to learn by viewing entries into this competition?
Newton Rebello: Needless to say, it's an honour to be a part of the Grand Jury. Through this, am hoping to see new ideas and initiatives from around the world that would stimulate my thinking. I believe one should never stop learning. My participation in this year's Grand Jury is a part of my learning – learning of new ideas, learn of new things that were done in other parts of the world and perhaps get inspired by the people who have managed to drive change in their own little way.
AME Awards: What is your all time, favorite most creative and effective ad and/or ads (share the link or a visual) and why in your opinion did they triumph?
Newton Rebello: While there are quite a few that come to mind, HSBC's 'never underestimate the importance of local knowledge' is something that stands out. This campaign did well because it was driven by insight, was smart, simple to understand and locally relevant. In my view those ads can run even today or even 5 years from now and they would still be relevant.
I have attached a few ads for everyone to enjoy and relish!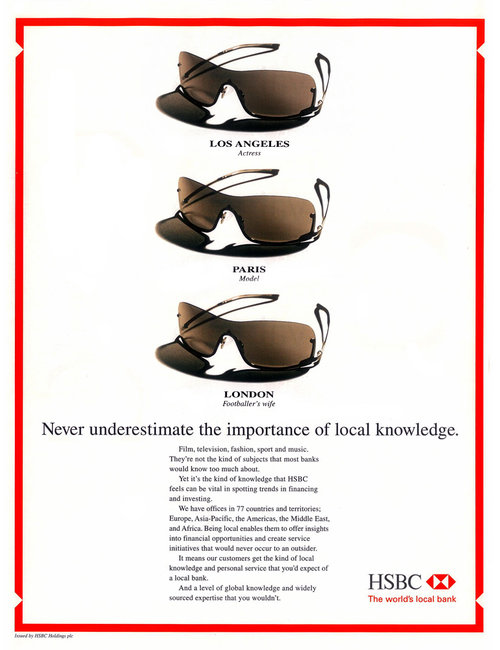 AME Awards: What advice or guidelines would you give to potential entrants on earning an AME Award?
Newton Rebello: Two things:
1.     As a jury person, I need to know the following:
a.     What the challenge / problem / objective was
b.     What action was taken
c.     What was the tangible result?
These three questions need to be answered clearly and in definite terms – not ambiguous ones.
2.     Keep the language simple and reduce the use of adjectives. A case study filled and replete with superlatives does more harm than good
AME Awards: AME's Grand Jury, emanating from 5 regions around the globe provides the opportunity to earn trophies within a region and on the global stage. Why in your opinion is the idea of AME's Grand Jury judging both regional and then the entire Grand Jury judging all the Gold winning work to select Platinum winners and Best in Show important to both entrants and to jurors?
Newton Rebello: To begin with, the AME Awards are global awards. Hence, everything about it needs to be global.
From an entrants' perspective, they have the opportunity to have their work evaluated by jurors across the world thus giving them global recognition. Also, it helps in understanding how their work (that has done well regionally) stands up to competition from work done in another part of the world.
From a juror's perspective, it is only fair that for work to be judged by people from other regions as well so as to bring about a sense of fairness and balance, and remove any biases, to the judging process.
AME Awards: What is one secret of your success that no one knows about you (till now)?
Newton Rebello: For me success is a continuous journey and not a destination. One needs to keep moving and keep learning. I've always tried to continue my learning on an on-going basis.
AME Awards: What philosophy or iconic individual inspires you in both your career and life?
Newton Rebello: For me, in whatever I do – personally and professionally – a sense of ownership is very important. When one brings in this sense of ownership, one automatically brings in the right attitude towards what he or she is doing. This is the philosophy I live by and try to imbibe in my team and in people around me.