---
Zulay Tomasiello, SVP Group Strategy Director, McCann Health New York joins AME for this week's Effective Perspective. Zulay shares the inspiration and insights behind this multi award-winning campaign, "#SuperSickMonday."
McCann New York and McCann Health New York earned the AME Regional Platinum Award-North America for "#SuperSickMonday" along with 4 AME Gold Medallions for client Mucinex.
1 in 5 (or 19% of) employed Americans have previously missed work the Monday after the big game, #SuperSickMonday gave America's biggest fake sick day a proper name.
Results: The campaign drove 2,520 media placements and generated 5X earned media impressions than the initial target with reach that included 1 billion+ paid and earned PR impressions, 65M YouTube impressions,61M+ Twitter Impressions, #12 trending on Twitter, and #2 trending on LinkedIn.
Both agency and brand scored a double hit with McCann New York and McCann Health New York ranked number 2 on the AME Report (a tie with Canada's Zulu Alpha Kilo) and Mucinex took the number two slot on the AME Brand Report.
What was the inspiration for "#SuperSickMonday" and what did you ultimately hope to accomplish?
Zulay Tomasiello: Our RB partners approached us with a challenge, how can we make Mucinex an iconic brand and own the peak of the cold and flu season? We knew we had to do something big and it had to happen sometime between mid-January and early February. So, we chose the only event that could give us that kind of scale and resonance at the right time: the Big Game. The question became, how do we insert a cold and flu product during the Big Game in a meaningful way? Inspiration struck when we found a little-known fact: the day after the Big Game is the day most Americans call in "sick". That was the cultural relevancy we needed, and better yet, we didn't have to be in the game to own it. 
How did you convince RB/Mucinex of the idea or were they on board immediately with the concept? 
Zulay Tomasiello: We have a great partnership with RB, and a core element of that partnership is the value we both place on strategy. When we shared the strategy with the Mucinex team they realized this powerful insight unlocked so many possibilities for their brand, and were fully supportive of the initiative. In fact, they immediately assembled an integrated team to make it all happen quickly and flawlessly.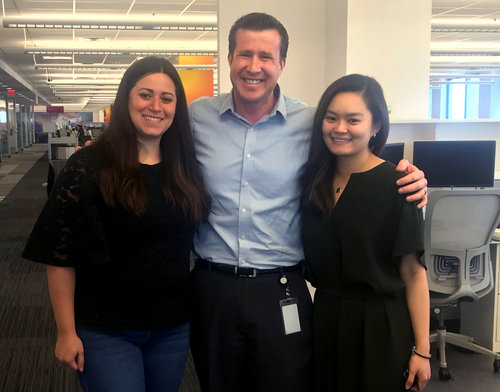 RB Team
What was the timeline of the study you commissioned and released study, in conjunction with the Workforce Institute at Kronos and Harris Poll, to validate the phenomenon of people calling out sick after a big game with hard numbers?  Were the results what you expected and how important was this study in drawing awareness to your campaign?
Zulay Tomasiello: Our PR partners, DeVries Global & dna Communications, commissioned a survey in partnership with the Workforce Institute at Kronos Incorporated. The Harris Poll survey was conducted January 16-18, 2018 among 2,033 U.S. adults ages 18 and older, among whom 1,122 were employed. Key survey findings were then included in our #SuperSickMonday campaign press announcement distributed via newswire on January 31, 2018. 
Our hero stat – nearly 14 million employed Americans who plan to watch the Big Game intend to call out of work on Monday – was instrumental in creating a cultural moment tied to the Big Game. We knew prior to conducting the survey that the Monday after the game was historically the biggest "sick day" of the year, and our data validated the prevalence of the Super Sick Monday phenomenon as it related to that year's game. It allowed us to stand out in the cluttered media space in a way that felt organic and true to our brand's voice. 
Would you share any creative and logistical challenges you faced throughout the campaign and how you solved them?
Zulay Tomasiello: It was both a creative and logistical challenge: Mucinex was not a sponsor of the Big Game and therefore, could not refer to its players (or performers) being sick. We overcame that obstacle with an impeccably timed media buy. Right after the final whistle blew, we captured America's mood and conflicted feelings about going to work the next day. It was a challenge that made our creative even better.
How long was the time lapse from inspiration to final execution of the campaign?
Zulay Tomasiello: July to December (5 months) 
#SuperSickMonday exploded on all media, to what do you attribute that phenomena in just an 8- day time period?
Zulay Tomasiello: First, we clearly hit a chord. It is a human truth that everyone relates to. Second, it was a well-orchestrated effort. From PR, media, influencers and Twitter, we truly engaged our target through every touchpoint. And, third, luck! The end of the game was unexpected and exciting, so we had many people hang on to the very end and there was no dip in audience. We fit right into the celebratory conversation.
What was RB's reaction to the results of the campaign?
Zulay Tomasiello: Elation. We set up a war room to do community management both Sunday and Monday, and the minute our ad went on air, social media exploded. Witnessing that strong response in real time was very exciting for the whole team. This was followed by reports on impressions, brand sentiment and brand shifts all of which were above expectations and helped Mucinex reach new levels of awareness, engagement and affinity.  
What results were you most proud of and why?
Zulay Tomasiello: From a KPI perspective, we saw dramatic increases in brand favorability, brand love, brand for me and purchase intent.
From a team integration perspective, we are all very proud of how our strong partnership with RB, DeVries Global, dna Communications, innov8, Zenith & Twitter made this happen in such a short timeline. We couldn't be happier with the results we achieved.
#SuperSickMonday was awarded the AME Regional Platinum Award and 4 AME Gold Awards, what did this accomplishment mean to you, the team, and the client?
Zulay Tomasiello: It's a recognition of the passion and discipline with which we approached this challenge for Mucinex, and a celebration of the power of cultural insights and perfectly timed creative. And, it reflects the strength of our partnership with RB. Through this entire process, RB was a supportive champion and encouraged us to push the envelope every step of the way. We couldn't more grateful, or prouder of this honor.